Orders will not be shipped until after the 28th of August. We apologize for the inconvenience.
Currently offering free shipping in the United States on orders of $60 or more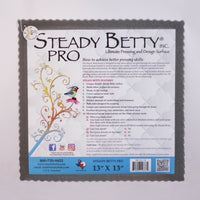 The Steady Betty
The Steady Betty is a unique, high quality pressing surface that holds fabric down with little to no movement for a perfect press. The Steady Betty was first designed to aid the quilter, but has since found many other uses.
Check out our social media!