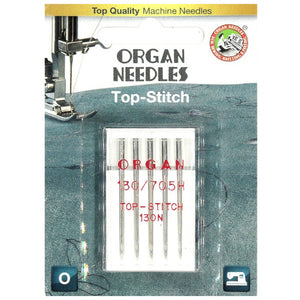 ORGAN NEEDLES The Best choice for piecing quilt blocks!
Regular price $8.65 $4.59 Sale
Sewing Machine Needles
The Top-Stitch needle is considered the Magic Needle by professional quilters. The 90-14 is perfect for 40Wt. threads and the 80/12 is perfect for 50 wt. threads.
A great YouTube video to watch is  #100 on Superior Threads Channel with Bob.
Organ's Top-Stitch Needles are used to create decorative top stitching on various materials. The 130/705H (130N) needle system is compatible with most home sewing machines. Please consult your sewing machine's instruction manual for compatible needles. This 5pk of Organ Top-Stitch Needles are available in size 90/14 and 80/12.