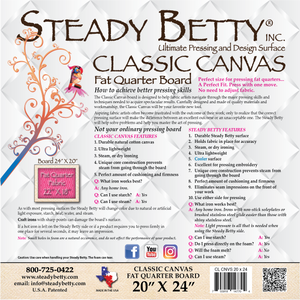 Steady Betty Classic Canvas Fat Quarter 20" x 24"
Regular price $78.95 Sale
The Classic Canvas board is designed to help fabric artists navigate through the major pressing skills and techniques needed to acquire spectacular results. Carefully designed and made of quality materials and workmanship, the Classic Canvas will be your favorite new tool.
Perfect size for pressing fat quarters... A Perfect Fit. Press with one move. No need to adjust fabric.
Aspiring fabric artists often become frustrated with the outcome of their work; only to realize that the correct pressing surface will make the difference between an excellent outcome or an unacceptable one. The Steady Betty will help solve problems and help you master the art of pressing.
CLASSIC CANVAS FEATURES
Durable natural cotton canvas
Ultra lightweight
Steam, or dry ironing
Unique core construction prevents steam from going through the board
Perfect amount of cushioning and firmness
STEADY BETTY FEATURES
Durable Steady Betty surface
Holds fabric in place for accuracy
Steam, or dry ironing
Ultra lightweight
Cooler surface
Excellent for pressing embroidery
Unique core construction prevents steam from going through the board
Perfect amount of cushioning and firmness
Eliminates seam impressions on the front of your work
Use either side for pressing